49ft Flybridge Cruiser
Designed and built for long range cruising or game fishing the Caribbean 49 has sleek Euro- styled decor appointments, she has three grande cabins, plus saloon accommodation which comfortably accommodates 8- 10 adults, with two spacious bathrooms including and a private en-suite. This combined with her huge open cockpit area, enclosed flybridge and twin 715hp Cummins Electronic Turbo Diesel power plants will propel this luxury vessel to a breathtaking 30Kts plus. The Caribbean 49 is the flagship of the fleet. 49 Flybridge Specifications Length: 14.77m (48'6") plus Swimming & Bow Platforms Beam: 4.88m (16') Draft: 1.37m Cockpit Area: 15.33 sq m (165 sq ft) Engines: Twin ...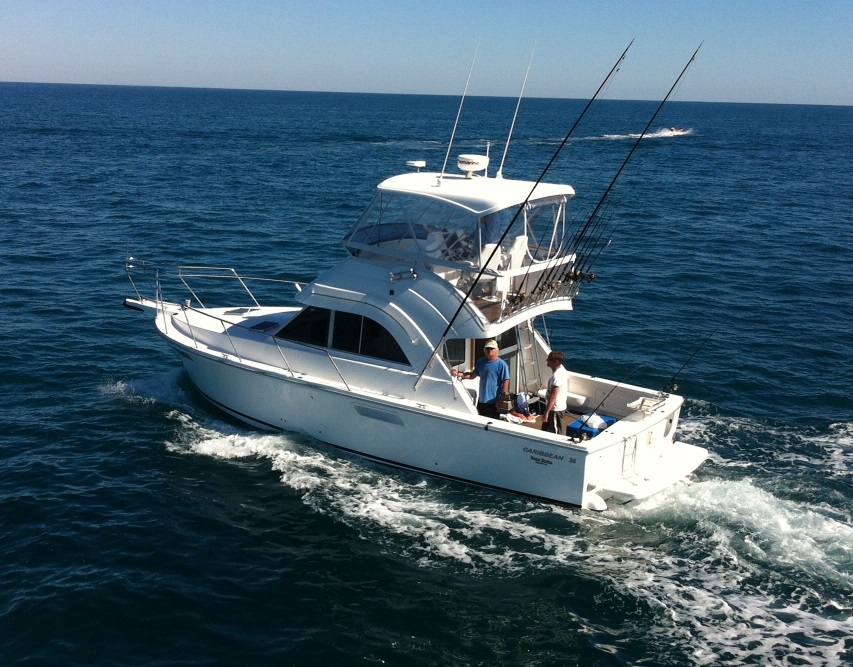 35ft Flybridge Cruiser
This spacious twin cabin vessel includes, a master double bed and 2 guest bunks which comfortably accommodates 6 plus adults. Boasting a fully appointed galley including microwave, cook top and fridge/freezer. Together with her impressive saloon consisting of a dinette and lounge with a state of the art entertainment unit, Onan genset and twin 330 hp electronic diesel power plant you have the ideal vessel for long range blue water cruising, or tackling that 1000lb black marlin. The new Caribbean 35 MK III Flybridge Cruiser is the benchmark of Flybridge Cruisers. 35ft Flybridge Specifications Length: 10.67m (35') plus Swimming & Bow Platforms Beam: 4.03m ...
23ft 2300
International Marine continues the tradition with the Caribbean 2300, with modern styling, while retaining the classic deep V-hull for true off shore soft handling. Together with a massive cockpit, lockable vee berth with marine toilet makes her complete for either a serious sport fishing boat or cruising with family and friends. 2300 Specifications Length: 7.05m plus bow platforms Beam: 2.50m Transom beam: 2.34m Engines: 1 x 300hp single Outboard or: Twin x 150hp Outboards Adult Capacity: 7 Hull Weight: 1,550kg (dry) not including engine Engine Weight: 390 kg Fuel Capacity: 425 litres Tow Weight: 2,951kg